Discover About the Versatile 2020 Ford Escape
The 2020 Ford Escape is a crossover built for style and loads of fun. This vehicle can fit into tight spaces, which means that it can travel to places that most full-sized SUVs would have to bypass. The new Ford Escape also has the incredible towing capacity, which means that you can take more on your road trip to Warner Robins than you initially thought. There is much to love about this crossover with variety being the number one perk of the 2020 Ford Escape.
Technology
Ford continues to lead the way in technology. Co-Pilot 360 Technology takes precedence with a complete package of amenities that include Pre-Collision Assist, BLIS with Cross-Traffic Alert, and a host of other technologies revolving around safety and convenience.
Pre-Collision Assist technology offers automatic braking when an accident appears imminent in and around Milledgeville. Your Ford Escape will take every measure to stop the vehicle when it detects that the vehicle is moving too quickly to safely come to a halt. Pre-Collision technology also works to fully supply braking power when you are unable to stop the vehicle.
The Blind Spot Information System (BLIS) is also a great feature to enjoy when you are looking for safety in your new 2020 Ford Escape. This technology uses radar technology to identify if a vehicle is too close to your vehicle. BLIS notifies you of the potential collision by way of a red dot on the exterior mirror of the vehicle.
Cross-Traffic Alert comes standard with BLIS technology. This feature monitors vehicles that pass behind you and notifies you of any potential collisions. Many Byron, GA drivers find this technology especially helpful when they are backing into a parking space.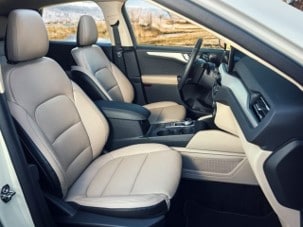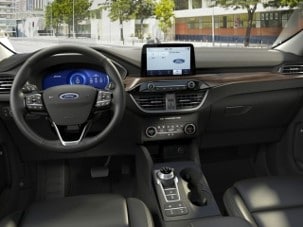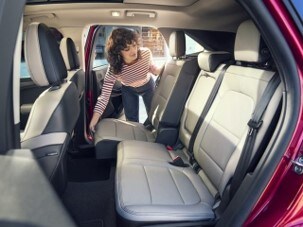 Choose From Five Models
The new Escape is anything but average with five models from which drivers may choose. The basic S-model is ideal for buyers who do not want the bells and whistles. You can expect a 1.5-liter EcoBoost engine with Auto Start-Stop technology. The Ford Escape S model comes standard with an eight-speed transmission and the ability to save you money on gas as you drive around Macon.
Those who want to go higher in their experience may want to consider the Ford SEL Escape. This model is a cut above both the S and SE lines with its 2.0-liter EcoBoost engine. You can upgrade the SEL version even more by adding the 2.0-liter EcoBoost Class II Trailer Tow package, which increases tow capacity from the standard 2,000 pounds to an amazing 3,500 pounds.
Of course, those environmentally-minded drivers can enjoy the Escape on their terms as well, thanks to the SE Sport Hybrid model. This option gives you a bit of speed and a whole lot of climate-friendly incentives. You can go the distance with the Escape Hybrid, which lets you travel as far as 39 miles per gallon (MPG). Imagine yourself passing gas stations around Forsythwhile taking your next trip through the country. Such is a possibility with the 2020 Ford Escape.
The Titanium version of this crossover is made specifically for those who want the luxury experience. Enjoy FordPass along with Park Assist in this model. There is also the option of selectable drive modes designed to improve the driving experience. You can choose between Eco, Sport, Normal, and Slippery modes. The Slippery mode does exceptionally well in inclement weather situations where snow and sand are prevalent.
Test Drive A New Ford Escape Today
There is much to love about the 2020 Ford Escape. You have options with the various models. The new Ford Escape follows in the way of safety coupled with technology so that you can navigate the road with full confidence. Test driving this crossover is the best way to determine if it is the right vehicle for all of your adventures in life, so when you're ready drive on over to Riverside Ford and we would be more than happy to help you today.
Hours
Monday

9:00AM-8:00PM

Tuesday

9:00AM-8:00PM

Wednesday

9:00AM-8:00PM

Thursday

9:00AM-8:00PM

Friday

9:00AM-8:00PM

Saturday

9:00AM-6:00PM

Sunday

Closed